The Shih Tzu Tail
by Jo Ann White
(Left) The desired balance and outline of the Shih Tzu, as seen in this image from the Illustrated Guide to the Shih Tzu Standard; (below) examples of correct and faulty tail-set and carriage.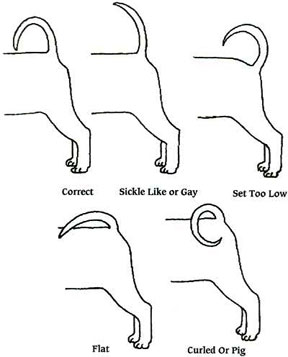 Many breeders have commented on the many incorrect tail-sets they are seeing on Shih Tzu in the ring these clays. The breed standard calls for a teacup-handle tail that is set on high, heavily plumed, and carried in a curve well over the back. A tail that is too loose, too tight, too flat, or too low-set is unde­sirable and should be penalized to the extent of the deviation. An improper tail-set and/or carriage detracts from the desired balance and outline of the Shih Tzu, seen in the
Illustrated Guide to the Shih Tzu Standard.
While the standard does not mention length of neck, the Shih Tzu should have enough neck to balance with the arch of the tail. This creates an overall balanced appearance that is lost if the tail is too flat, curled , or set too low.
Remember as you assess overall balance that a white tail-tip on a dark-colored dog creates the optical illusion of a shorter back. In addition, a young and excited puppy may sometime flag his or her tail a bit until the weight of the hair pulls the tail down into the correct position as the dog matures. Because the out­ going, happy, friendly and trusting temperament is such a key hallmark of the breed, no Shih Tzu should ever drop their tail in the ring when moving or when standing still.
On a mature dog, you should be able to insert your hand between the tail and the dog's back when the tail is correct. However, some Shih Tzu do not like their tails being "fussed with" when being set up, brushed, or examined. They may let you know this by temporarily twisting these appendages into really peculiar shapes. Once they start moving, however, their tails should return to the desired teacup-handle position. By contrast,a handler may be able to set up a dog so that a low tail set appears to be correct. When such a dog start moving, its sloping croup and low tail-set are revealed.
CREDIT:
CREDIT:
From the December 2021 AKC Gazette Shih Tzu breed column, reproduced here with permission. To read the online AKC Gazette, visit
akc.org/pubs/gazette/digital-edition.